Known as one of the best nightlife spots in Southern Delaware for its food, live music, and water sports, Dewey Beach is a must-visit spot when vacationing with us! So, to make it easier, we've compiled a list of our picks on the top 7 bars in Dewey Beach Delaware.
Although, some of these bars are dog friendly like Canalside Inn, some are not. So, if you need someone to watch your furry friend while you're out on the town, be sure to check out our dog walking services. 
The Starboard is Dewey's most famous bar and restaurant. Established in the 60s, their cult-like customers from all over as well as Dewey locals return each year for their renowned events and entertainment like: Running of the Bulls and Breakfast with Elvis. People don't only come for their famous Bloody Marys or Orange Crushes either, the food is just as good with a wide variety for breakfast, lunch, and dinner. In the summer, enjoy live music entertainment 7 nights a week and limited to the long weekends in the off-season.  
Bottle & Cork is the premiere and iconic concert venue in Dewey Beach and one of the best live entertainment destinations in Delaware. They feature national acts, cover bands, and have had some of the world's most famous artists over-perform 80 years of existence. If you're a rock n' roll fan, you won't want to miss their famous Saturday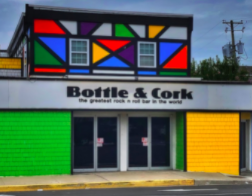 Note: This venue is only 21+ and cash only but has many ATMs within.  
North Beach is the home of the Dewey devil is another top live music and dance venue in Dewey Beach. Located right on the bay, this venue brings the bar to the beach with their volleyball nets and tables right on the sand! Their events are one of a kind starting the weekends right with Friday Taco Toss, serving free tacos from 4 pm-9 pm and a live band following with Saturday Pool Party starting 12pm-5 pm, and hen ending with the Original Sunday Funday with live music from 1 pm-1am! If you love to party at all hours of the day this is the place in Dewey to be! 
Rusty Rudder is one of the oldest bars and restaurants in Dewey Beach Delaware and also has some of the best bayfront views. Both an indoor and outdoor restaurant, its main features are a drive-up dock for incoming boats to stop and take a break or come and eat. With live music on their deck 7 days a week, this is the perfect kid-friendly as well as dog-friendly place to eat in Dewey! Also, if you're looking to schedule a private event, their venue is great for any size parties.  
Jimmy's Grille is a traditional American style canopied bar and restaurant right off route 1 with outdoor high-top seating. A great open restaurant to eat in the summer, they also have live music almost every night to enjoy with the whole family! 
Nalu Surf Bar & Grille is one of the newer locations to open in Dewey Beach but has already made a name for itself with a Hawaiian theme. Nalu is an open-air family-friendly restaurant for lunch and dinner and fosters a great night scene later in the evening for 21+ with a limited food menu. They even have a small stage for small bands and solo artists who often come to perform in dinner and late-night hours.  
Woody's Dewey Beach Bar & Grille, open year-round, is a local favorite and home of the best crab cakes at the beach. For bar goers, they offer a delicious late-night menu until close at 1am! 
All of these bars are top-rated by the Canalside Team and we encourage you to not just explore Rehoboth Beach but to check them out as well when you stay with us. They'll be sure to keep you out partying all night and we recommend an in-room massage and late checkout. Just think… some of the best bars in Delaware are just a few miles away!! If a few miles seem like a lot, check out our party bus to get you safely there and back! Click below to book your reservation & get your party on at these awesome bars in Dewey Beach Delaware!