Don't leave your pet at home this vacation!
Hate the stress of having to board your pet during your time away? No more need to worry, Rehoboth Beach Delaware is the perfect spot to bring along your furry friends because of the many pet-friendly restaurants, activities, and our favorite dog-friendly hotel, The Canalside Inn! Here is a guide that will point you to all the unique shops to visit with your pet during your stay.  
Address: 156 Rehoboth Ave, Rehoboth Beach, DE 19971 
Hours: Monday-Thursday 9am-5pm, Friday 9:30am-6pm, Saturday & Sunday 9am-6pm 
Critter Beach specializes in gifts for pets and people who love them! They have a wide variety of pet toys and accessories for every pet need. You might also want to check out their freshly baked treats made locally. This is for sure a must-visit store for pet lovers visiting Rehoboth Beach! Then stay at The Canalside Inn to unwind with your pup! 
Address: 43 Rehoboth Avenue, Rehoboth Beach DE 19971 
Hours: Open Daily 8am-7pm 
Calling all ice cream lovers! Does your furry friend ever beg you for a lick? Now there is no more need to share! Salty paws home to the very first doggy ice cream bar featuring various lactose free flavors and toppings that every pet will love. Their bakery also contains items like doughnuts, cookies, and cake mixes! They also offer to host events like doggy birthday parties or fundraising events. This is a pet store to go after a long day at the beach and when it's finally time to kick back and relax make sure you visit Rehoboth Beach's pet-friendly boutique hotel The Canalside Inn.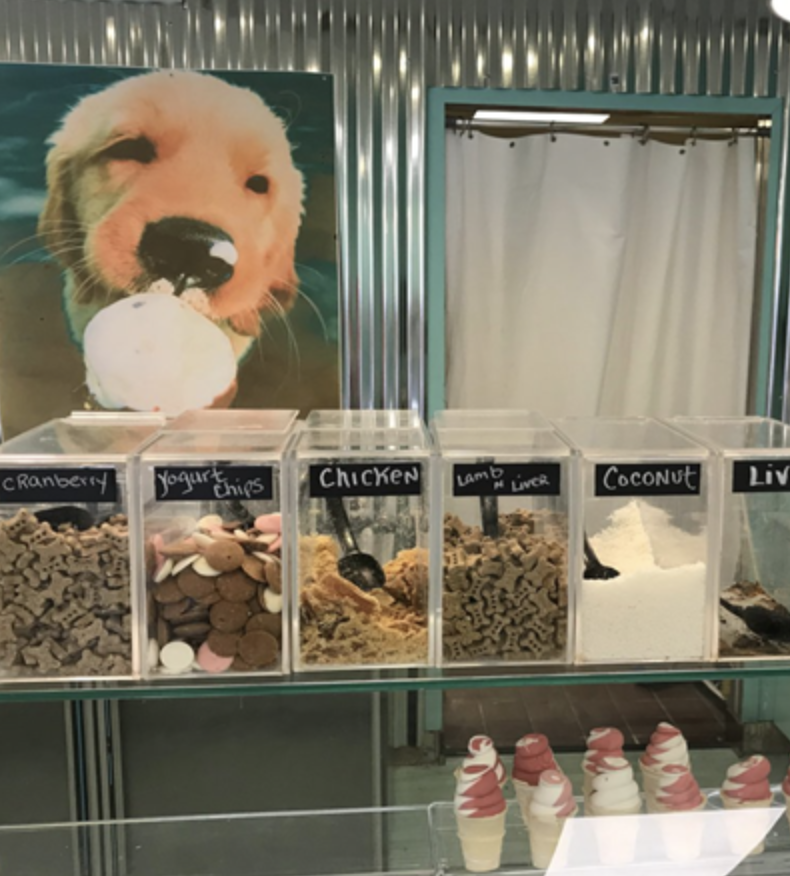 Address: 146 Rehoboth Avenue, Unit 1 Rehoboth Beach, DE 19971 
Hours: 10am-6pm Friday & Saturday, 10am-5pm Sunday – Thursday, Closed Tuesday 
Pet Wants is a locally owned pet store that specializes in making monthly batches of fresh dog food while incorporating high-quality ingredients that will make your pets feel their very best! Some of their other products include anti-itch spray, calming balm, and paw wax. They even offer free delivery as well as free samples to Rehoboth Beach residents and those in surrounding towns. The owners of Pet Wants started their business when deciding to create their own dog food in order to improve their own dogs' health issues.  
19287 Miller Road, Rehoboth Beach, DE 19971 
Hours: Monday-Saturday 9am-9pm Sunday 10am-6pm 
Concord Pet & Food Supplies is here to serve your everyday pet needs! They carry everything you might need from bed crates & gates to grooming supplies across a variety of widely trusted brands. If you love it after you visit there is even a chance there is one near you! They have multiple locations across Delaware, Pennsylvania, New Jersey, and Maryland. Make sure you stop here to stock up on your pet needs this vacation and then head over to The Canalside Inn to spend the remainder of your stay! 
Don't forget to also check out the Swag Store at The Canalside Inn (our personal favorite)! For our awesome collection of leashes, harnesses, and collars that your pet will love!