Dogs at The Canalside Inn Hotel
At the Canalside Inn, we are all about spoiling our furry friends no matter the occasion. WE encourage you to bring your dog with you on your vacation and stay at the Canalside inn. The Canalside inn offers all the comfortable hotel accommodations, all while staying with your best friend.  (please review our pet policy here)  Rehoboth Beach, Delaware, and surrounding areas are the perfect place to bring your dog for some R&R.  Rehoboth Beach is the perfect spot to relax, with 5 of the top local golf courses, our inn is perfectly situated for dog and golf lovers alike!   On your visit, be sure to say hi to our unofficial mascot, Sky 'The Inn-Keeper'.  Sky is a two-year-old Siberian Husky.  Sky is not a typical Husky, because he usually isn't hyper.  Like all Husky's, his favorite activity is running.  He loves running alongside the bike when we go on weekend adventures to select Delaware state parks or beaches.   Sky is gentle and loves children, and he loves treats like all dogs!  We rescued Sky from a humane society in South Florida.  This will be his second winter in Rehoboth and we can't wait for him to revisit the snowy season this winter!  Come by and say hello to Sky the in keeper next time you're in town!
5 Dog Friendly Beaches In Delaware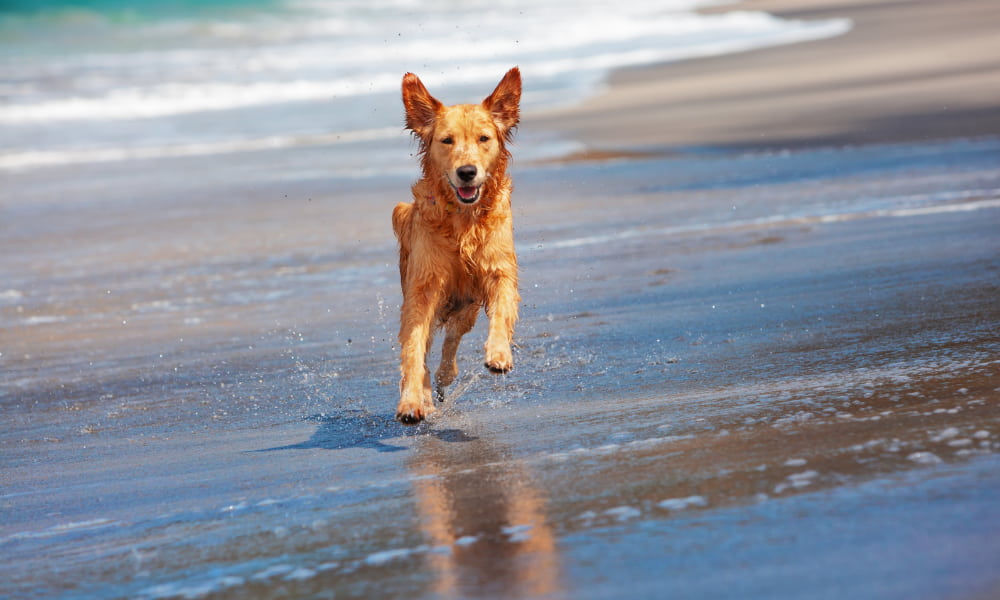 In Rehoboth dogs are prohibited on the beach and the board walk from May 1 to September 30. Don't worry folks because in Dewey Beach Dogs are allowed on the beach year-round by special license.  We enjoy bringing Sky to Dewey beach and appreciate this beach for having a pet friendly atmosphere.  From May 15 to September 15, dogs are only allowed on the beach before 9:30 am and after 5:30 pm. Unofficially, the lifeguards don't enforce this until their chairs are on beach, so 10 to 5pm.  During the off-season, dogs can be off leash, but must be under your control and be cleaned up after. A license can be obtained during business hours at (Town Hall |105 Rodney Ave, Dewey Beach, DE 19971) for $35 for a lifetime of your dog, or an 8-day license for $10, or $5 for a weekend.   In Lewes, DE dogs are prohibited from all beaches between 8 am and 6:30 pm from May 1 to September 30. Our Neighbors in Bethany Beach say dogs are prohibited on the beach and boardwalk from May 15 to September 30. Dogs must be on leash in town. The Delaware State Parks, Pets are allowed in our seashore parks, but Delaware State Law prohibits them from all swimming and sunbathing beaches from May 1 to September 30. Park rules and regulations also restrict pets from areas such as surfboarding and sailboarding beaches and shorebird nesting areas. 
Your Dog will Love you for the Treats!
After all the beach and sand I'm sure your dog deserves a treat!  We love to stop in to try The Original Doggy Ice Cream Bar at Salty Paws.  Not only will your dog love it, but the staff is friendly.  There are several boutiques shops on the ave that are geared for dogs, so after your pup enjoys their ice cream, you can stroll into several of the dog-friendly stores.
The Canalside Inn is the perfect place to spend a beautiful beach vacation in Rehoboth Beach with your dog.  Whether you're visiting to experience one of our couple retreats, or on vacation with your family, now you can have peace of mind knowing you can bring your best friend along!  With Restaurants around the corner, you can make The Canalside inn the perfect place to enjoy a Bed and Breakfast experience with your best friend.   Contact us to book your stay at the Canalside Inn and see what Delaware beaches have to offer.