Dog Friendly Accommodations in Rehoboth Beach
At Canalside Inn we are all about spoiling our furry friends. Rehoboth Beach and the surrounding communities are the perfect places to bring your dog for some much-needed relaxation. 
Our unofficial mascot is Sky, a four-year-old Siberian Husky. His favorite activity is running, especially alongside a bike! Sky was rescued from the Humane Society in South Florida. He is very excited for the upcoming summer season in Rehoboth and can't wait to see everyone safely returning to the area to enjoy the beautiful weather and location.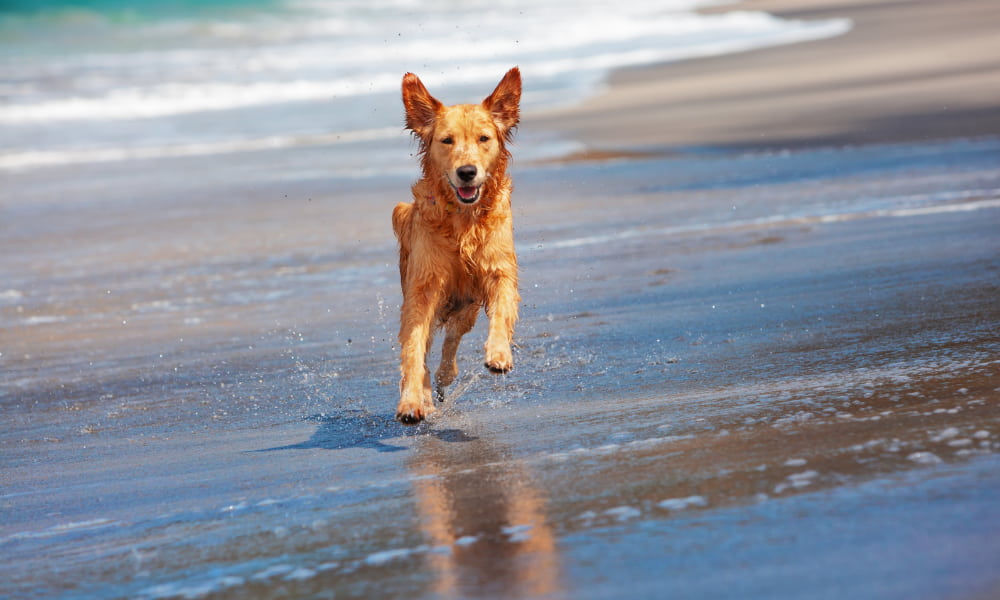 The most important, and maybe most obvious stop for you and your dog in the Rehoboth area is, of course, the beaches! In Rehoboth, dogs are prohibited on the beach and the boardwalk during peak season- from May 1 to September 30. However, don't sweat it, because, in Dewey Beach, dogs are allowed on the beach year-round through a special license. However, from May 15 to September 15, dogs are only allowed on the beach before 9:30 am and after 5:30 pm. 
During the off-season, dogs can be off-leash but must be under your control and be cleaned up after. A license can be obtained during business hours at 105 Rodney Ave. for $35 for the lifetime of the dog, or an 8-day license for $10, or $5 for a weekend. In Lewes, DE dogs are prohibited from all beaches between 8 am and 6:30 pm from May 1 to September 30.
Additionally, in Bethany Beach, dogs are prohibited on the beach and boardwalk from May 15 to September 30 and must be on leash in town. In the nearby Delaware State Parks, pets are allowed in seashore parks, but State Law prohibits them from all swimming and sunbathing beaches from May 1 to September 30. Park rules and regulations also restrict dogs from areas such as surfboarding and sailboarding beaches and shorebird nesting areas. 
Like the beaches, the food scene in the Rehoboth area is a major attraction for many of the visitors! There is a huge variety of cuisines and experiences available to you in the various communities and many of them are excited to have you AND your dog!
If you're looking for a hot slice or two, you should head over to Grotto Pizza and enjoy their outdoor patio seating open to dogs!
The Rehoboth area is home to countless breweries and distilleries, so to all you beer connoisseurs, this is the place for you! Thompson Island Brewing Company has delicious food and drinks available to you and your dog at their outdoor tables.
One of our favorite local eateries is Egg– a delicious breakfast and brunch spot that President Biden has often frequented in his trips to Rehoboth. With outdoor and indoor dining- Egg is the place to take your dog and enjoy some classic breakfast dishes.
If you have a sweet tooth, Salty Paws Ice Cream and Bakery is the place for you and your dog! Both you and your dog can enjoy some delicious treats there and soak up the sun on the outdoor tables!
Ready to travel to the beach with your dog? Finding dog friendly hotels or other lodgings can prove to be difficult. Rehoboth Beach boasts several hotels that offer dog friendly rooms.
The Canalside Inn is a luxury, boutique hotel located less than one mile from the Rehoboth Beach Boardwalk. Canalside Inn offers dog friendly rooms that include complimentary dog treats, dog food, and water bowls, dog towels.
The perimeter of Canalside Inn offers a lovely walking path along the canal, or make your way up to Rehoboth Avenue and enjoy a walk down to the beach along with the main shopping and dining street in town. In addition to the Canalside Inn, Rehoboth Beach dog friendly hotels also include the Breakers and the Holiday Inn.
Wherever you and your pup end up during your trip, we hope you have the most amazing experience in our Nation's Summer Capital, Rehoboth Beach, Delaware.