Anyone looking for the authentic experience of strolling along an all-American wooden boardwalk should visit the historic resort town of Rehoboth Beach in Delaware. The mile-long pet-friendly boardwalk provides a backdrop for festivals and events while combining old-world charm with modern amenities. 
It was voted one of America's best boardwalks, and there is a 24-hour live webcam feed from the Atlantic Sands Hotel with a bird's eye view of the beachfront and boardwalk. Here are some of the coolest things you can do there:
Check Out a Beloved Amusement Park
Our top recommendation is a classic family amusement park, Funland, located right on the boardwalk (6 Delaware Avenue), only a five-minute drive from the Canalside Inn. Funland has 17 rides (reasonably priced), and five have remained the same since opening in 1962 – so you can recreate the carnival experience enjoyed by your grandparents.
Attractions include the usual favorites (carousel, Skee-Ball, and bumper cars) as well as more extreme options, including:
SuperFlip 360 (see the boardwalk upside down)
Paratrooper (panoramic views of beach and boardwalk)
The Haunted Mansion (with suspended cars) and souvenir photos to record your scary experience
If you want a smaller arcade experience, check out family-friendly Zelky's Beach Arcade, with cool pink storefronts decorating three locations,
NORTH
5 N Boardwalk
Rehoboth Beach, DE 19971
CENTRAL
101 S Boardwalk
Rehoboth Beach, DE 19971

SOUTH
115 S Boardwalk
Rehoboth Beach, DE 19971
all within easy walking distance of the beach. They have eight types of games to choose from, or you can simply taste their delicious donut rings before heading to your next stop.
Rent A Bike at Atlantic Cycles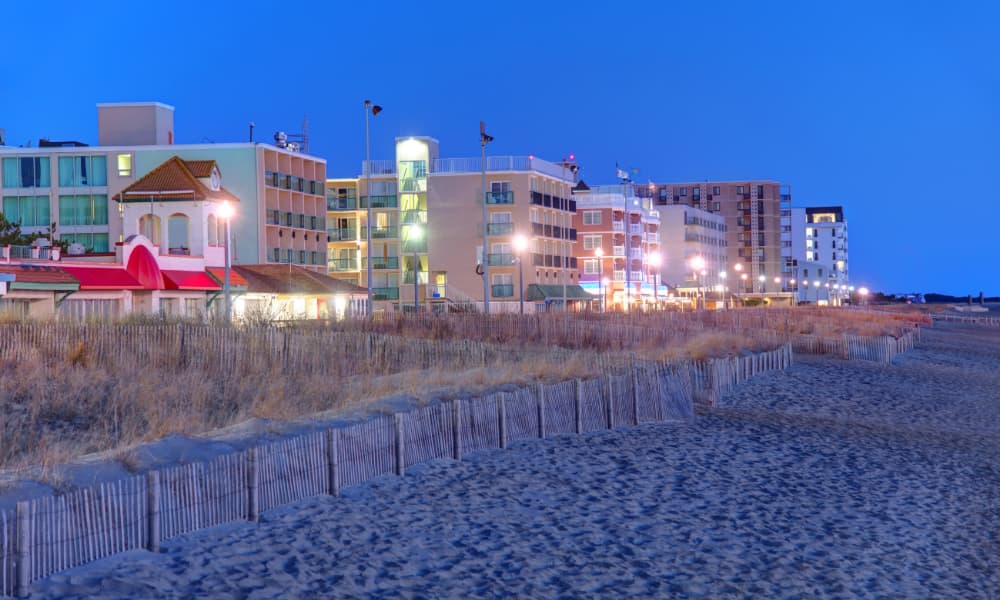 Take your family to Atlantic Cycles (with two convenient locations right on the Boardwalk) and a wide selection of rental bikes and jogging strollers. Chelsea, their friendly shop dog, will greet you. Child seats, safety gear, and a trail map are complimentary. From there, you can explore Cape Henlopen State Park, Junction & Breakwater Trail, or Gordon's Pond Trail. Both bike stores are only a five-minute drive from the Canalside Inn.
Play Rooftop Mini Golf at Ryan's
A great day out for the family might include a trip to Ryan's Beach Shop Mini Golf, an 18-hole course with fabulous panoramic views of the beach and the entire boardwalk. Ryan's Mini Golf is at 1 Delaware Avenue, Rehoboth Beach atop the Beach Shop and is open rain or shine. (Just be aware that they only take cash.)
Recreate History With a Family Vintage Photograph 
Your next adventure awaits at the pet-friendly Yesteryear's Photographic Emporium (21 Rehoboth Beach), where you can get family photos taken of you (and even your family dog). Yesteryear's has been serving Boardwalk tourists since 1981. You can select from themes such as The Elegant, The Rowdy (be a pirate), or Steampunk.
Listen to Live Music at Rehoboth Beach Bandstand
Your next stop along the boardwalk is the Rehoboth Beach Bandstand, which has provided free entertainment overlooking the beach for the local community and visitors since 1963. Check out their event calendar, and you will find music, movies, and variety acts. They have a cool summer concert series from mid-June through Memorial Day Weekend.
Taste Some Salt Water Taffy or a Big Daddy Funnel Cake
Your last stop might call for some sweet treats from Dolle's Candyland (operating since 1926), such as their famous saltwater taffy, caramel popcorn, and homemade fudge. You can also sample some of their high-quality handmade chocolate from Ibach's Candy by the Sea. You can't miss the giant orange "Dolle's" sign on top of their store – a Delaware landmark.   They recently announced on their website: "We will be closed for vacation from Nov 1st to Nov 21st, 2022 and will reopen on Nov 22nd under normal business hours."
You can also pop into Starkey's Funnel Cake Factory (7S on the Boardwalk). Try their signature dish, the Big Daddy Funnel Cake, and pair it with some Italian water ice (choose from 30 flavors). 
Stay at The Canalside Inn Close to the Boardwalk
The Canalside Inn is your perfect destination for a weekend getaway or a full vacation, and it's only a five-minute drive from the picturesque Rehoboth Boardwalk. Make our inn your pet-friendly home, with chic accommodations and stress-free service.
 Contact our friendly staff today to book your next vacation, ask questions about our retreats and packages, or get more tips about fun things to do around Rehoboth Beach, Delaware.